Why You Must Use Builderall For Your Business! In this Post I am going to share with 10 reasons to use Builderall for your business.
Builderall is an all-in-one web design and digital marketing platform that will enable you to create and grow an online business.
Most people and startups cannot afford to pay $297 or $697 for one tool. People found builderall has all the internet marketing tools in one dashboard for just $69, that's why people have shifted to builderall.
Building a business website can be a bit of a pain.
Especially if you are not a professional, and you are doing it yourself. Even as a professional web designer or developer, there is always going to be that client who wants something extra.
As a professional, you have most likely got your go-to sources for hosting, email, templates, frameworks, and more. But if you are doing it yourself, it becomes a real pain.
You have to choose all your integrated partners like hosting, email, and others.  And then, even when the site is built, you still have to promote the website, otherwise you will have no visitors, correct?
Here is a list of the main features of the Builderall platform:
Unlimited Domains and Subdomains
Autoresponder with a Unlimited Leads
Unlimited Bandwidth
10 GB of Disk Storage
Landing Pages
Sales Funnels
APP Builder
Video Builder
Floating Video
Click/Heat Map Tool
Facebook Integration Apps
Facebook Inbox Answer
Share Locker
E-Learning
Presentation Builder
SEO Report Tool
Browser Notification
Full Webinar Platform
Market Place
Hundreds of Tutorials + Forum Support
BuilderAll Business Opportunity
and much more
Its for the reasons above why you should consider using Builderall.
Builderall is an all in one business platform.
It includes hosting, email, and marketing applications.
Top 12 Reasons To Use Builderall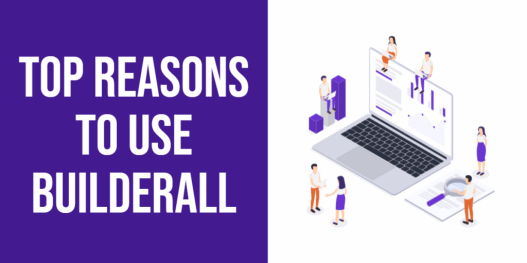 Here are the top 12 reasons why you should use builderall.
1. Everything In One Place.
There are no more hunting around for secondary services.
As a small business user or web designer, this makes life so much easier. Simply log in to your control panel and you can access your website builder, email accounts, autoresponders and more. Everything is included in one dashboard.
2. It Saves You Money.
When you add up the cost of all the additional services required, it can total a tidy sum of money.
It's not uncommon for small business owners to be paying upwards of $200 & $300 a month for basic services and apps from various different vendors.
You can get the FULL Builderall Hosting & Marketing tools for just $69.90 a month.
That leaves you some money for additional marketing. This is my favorite of 10 Reasons To Use Builderall
4. Earn Money With Builderall Too.

You can easily use the tools available to you inside Builderall to offer more services to your clients.
If you're a web designer, marketing consultant or similar you can sell the tools as separate services.
Tools such as Chatbot or the online magazine creator can be sold as a separate service to earn you even more money. Those are just 2 of the tools and there are a lot more.
5. Complex Funnels Are Made Easy
Creating sales funnels can be a nightmare. There are so many pieces to tie together in order for them to function correctly.
You have your landing page, lead magnet, confirmation page, sales page, up-sell page, down-sell page, checkout, one time offer page, thank you page and possibly more!
With builderall all this is can be done on the canvas in less than 10 minutes, yes 10 minutes.
6. 15 Amazing Builderall Apps
Get access to 15 amazing web apps to boost sales and engagement on your site.
Browser Notifications
SEO On Page Report Tool
Click HeatMaps
Chat Reviews
Facebook Auto post
Facebook Chatbot
Share Locker
E-Learning – Build online courses
Sales Script Generator
Social Proof
Spin The Wheel – Promo
Builderall Zap – Send WhatsApp Messages
Video Wrapper
Instagram Autoresponder
SMS Sender
7. Webinar Hosting
Now you can host your own webinar with signing up with external services like: GoToMeeting, Zoom, Webinarjam, Skype, YouTube Live and others.
It allows you to stream live or recorded content, chat features, email integration, statistics, scheduling and more.
8. Development Speed
Developing websites, webinars, sales funnels and email autoresponders can be very time-consuming. Once you are familiar with the Builderall site builders, tools and apps then development time can be reduced by as much as 80%. This is my second favorite of top Reasons To Use Builderall.
That's a huge time saving. Instead of weeks, it now takes just a few days if that.
Simple funnels can be setup in less than an hour.
9. Great Supported Community
Builderall has a great support system. In addition, they also have several official Facebook groups for English speakers, Spanish, Italian and German.
Builderall also has an amazing Facebook community for their affiliate. Here you can join it.

The English group is by far the largest and most active.
They have some of the most knowledgeable and helpful marketers out there, willing to help you succeed with your business.
10. Chat Support
If you have a really urgent help request then you can easily use their online chat support. Failing that you can use their ticket system and someone will get back to you within 24 hours
Builderall Live Chat Support.
There are plenty of video tutorials, throughout the modules. I know many people find audio/visual instructions more comprehensive than text instructions.
But this meant that every time I needed a quick guidance or just to find out a terminology, I had to be in a quiet environment (switch off the radio, for example).
You can also send a support ticket. It took over 24 hours to get my question answered, so it was not great. I wish there was a live chat where you could ask some basic questions, but there is not right now.
Become An Affiliate
Builderall also allows anyone to join their affiliate program. It's free to join, and you can earn some extra income by recommending Builderall to your clients and friends. Read Builderall Affiliate Program review here
So there you have my Top 10 Reasons To Use Builderall
If you would like to learn more about the Builderall hosting and marketing platform, then check out my original Builderall Review.
Who hosts your site?
Do you have a sales funnel?
I would love to hear your comments. Drop a message below.