Introduction:
If you want to be an Affiliate of Builderall, this article contains plenty of information about Builderall Affiliates.
Today I will break down all about Builderall Affiliates, such as What Is Builderall Affiliate?, How To Promote Your Builderall Referral Link?,
How to Start Sharing Your Affiliate Link Without Purchasing Any Premium Builderall Plan? & many more.
Let's dive into the article to deal with these in brief and learn about Builderall Affiliate Program Review.
How to Become a Builderall Affiliate?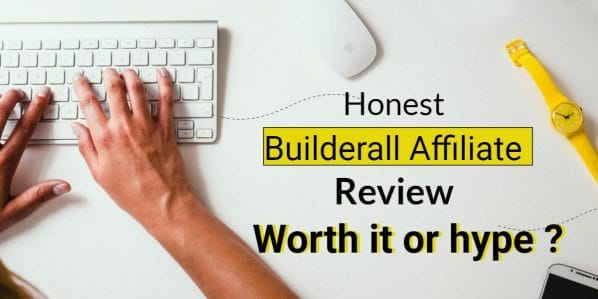 Unfortunately, to become a Builderall Affiliate, first, you need to create a Builderall Premium Plan account.
You heard it right; you need to buy the plan to be a Builderall affiliate.
That means you have to pay $69.90/month. Luckily Builderall offers a 14-day free-of-cost trial for their new user so that you can give a risk-free try to their premium features.
Once you find it helpful for you with the kind of support or features they offer, you can pay them monthly to enjoy all their stunning digital marketing tools.
You are going to love their tools. Builderall is all one tool worth the price you are paying, like building landing pages, email lists, on-page optimization & many more.
Moreover, you can use Builderall instead of using a separate tool to access all functions.
SIGN UP HERE and start earning high-value commission with Builderall Affiliate Plan
How To Get Builderall Affiliate Free?
Usually, to be a Builderall member, you need to pay $69.90/month even so under Builderall's Leveraged Affiliate Program, you can be a part of their Affiliate program free.
Builderall's Leveraged Affiliate Program runs on a point-based system that you have to collect through engaging more sales.
There are two ways to earn money by points, and one is Self-Consumption Points. In this, you will get three points for each 1 dollar you earned through any Builderall's plans. The second one is by Direct Sale Points. In this, you will get one point for direct selling of every one dollar.
But there is a condition you should keep in mind if you have started Free Builderall Affiliate, you have to earn a minimum of 140 points to acquire your Builderall commission and a 1st level sales.
Plus, you have to generate 147 points per month to be eligible for a commission.
CLICK Here to start earning from the Builderall Free Affiliate Program.
Is Builderall A Pyramid Business?
No, Builderall does not have any relation with the pyramid, Ponzi, or other shady business ideas that are only created to cheat users.
Their payment for your referrals is similar to other businesses. You will get your payment as a respective Builder member in the part of two separate Tier affiliate commissions called Tier-1 & Tier-2.
On the other hand, the pyramid business has an almost boundless Tier.
The central Perspective of this multi-function tool is to spread its network all over the market, subsequently making it a win-win situation for both whenever you generate more sales via Builderall referrals.
What Commission Do We Can Earn As a Builderall Affiliates?
Being a Builderall Affiliated, you can make a good amount of cash as a commission and get a golden chance to win a car.
Yes, you heard it right. Under Builderall's Dream Car Plan, they will award you 500 dollars USD if you refer Builderall to 100 people every month.
Luckily, if you get enough buyers and complete 200 referrals in a single month, you will get 1000 Dollars USD.
All this money will come out to be very helpful at the time of your car lease.
Best Practices To Promote BuilderAll:
So far, we have talked about the Builderall Affiliate & Builderall Affiliate program Policy. Now the main question arises for you "How Will You Promote Builderall?"
To answer this question, we will discuss some of the simple but powerful methods to promote Builderall to many users and generate sales with no hassle.
Promote Builderall Through YouTube:
YouTube is one of the best platforms to promote Builderall Affiliate or any product. YouTube is the second biggest search engine all over the globe.
You can generate a great count of sales with working SEO tactics to your video's content to rank higher than your competitors, and hence you will get more views & simultaneously more sales.
Here are some steps you can follow to Outrank your YouTube Video:
It would be best if you executed keyword research.
To rank higher than your competitors, it is imperative to have a competition analysis.
Create video content that solves and answers your audience's doubts.
Make an appealing Thumbnail(Canva can make it much easier to create stunning Thumbnails).
Compose an SEO Optimized description along with links to your social sites or any vital link that provides value to your viewers.
Finally, upload your video and start sharing it on different social platforms.
Want To Learn Some YouTube Master SEO: Subscribe to Our YouTube Channel To Get Great Tips On How To Grow Your YouTube Channel.
Promote Builderall Through Solo Ads:
Solo Ads is a method in which you pay someone who has a vast number of email lists that will promote your product(Builderall) instead of driving more traffic on your product. It is one more great source to promote your Builderall via email marketing.
Is It Profitable?
Yes, it is, but you have to keep some points in your mind before go for it:
It would be best if you emphasized fostering your leads for them to high up your sales chances.
Track your link clicks efficiently to avoid fake bot traffic.
Try out different sellers to know who has the best collection of emails under your niche.
Start with less investment and try out other vendors to know which offers the highest conversation.
You can also build your email marketing list through this Free Email Marketing Tools
Promote Builderall Through SEO & Blogging:
Promoting your product through Blogging & SEO is still a better choice if you don't want to go with social engagement and interaction.
Many professionals prefer Content Marketing via blogging over promoting their items by other means mentioned in this post.
But before you get started promoting your Builderall by Blogging & SEO. It is important to set up a website where you will write SEO-optimized content related to Builderall or hire any content writer who will write high-quality content for your product.
The best part with this method is that your content shows up to only those in the actual search of Builderall since they come to your blog after searching for terms like Builderall review or any doubts related to it.
Always keep in mind that Blogging & SEO entail time, but nothing will stop you from generating more builder sales and hence revenue once it starts.
Have a look at "HOW TO START BLOG IN 2021 Efficiency?".
Don't miss to submit your email in our Email News box to get upgraded & the best tips for Blogging & SEO
This will make it much easier for you to understand What you need or what you should do to make your Blogging journey worthy.
Promote Builderall Through Organic Facebook:
Organic Facebook is a free but effective way to promote your Builderall with your own personal Facebook profile to bring up potential clients.
You need to start to create your personal Facebook profile funnel and share it with the groups or other communities.
Based on your product niche(Here, digital marketing group, SEO, website development and designing, etc.) so that you can build a significant relation, authority, & more traffic to your FB funnel.
Let's talk about some of the necessary points you should keep in mind while setting up a Facebook Profile to optimize your FB profile funnel so that anyone can know about you & how you can help them at the very first look.
You should add your original photo rather than any logo, and this will help you by adding credibility to your profile.
Keep your Facebook cover photo at 820 pixels wide & 312-pixel height on your PC. You can use Canva to design high-quality FB cover images. Don't forget to add some appealing text on it to hook up your internet marketers along with your pic(Optional). In the end, add a link to the description…
Add a catchy Bio. Keep in mind that Facebook allows only 140 characters as a Bio. Don't forget to add a CTA(Call To Action Button.)
Create an image with a heading and add it as a featured picture on your Facebook funnel
Once you have done all these, you have to create a post that people search for and solve their queries to kick up your Facebook funnel.
Promote Builderall Through Facebook Ads & Google Ads:
If you have a budget, you can promote your Builderall through Ads on platforms like Google and Facebook.
But before you start, you need to know that this technique to promote any product is quite costly as you have to test different stuff and optimize your content to increase conversation.
So, before starting, it is necessary to know how these two platforms work for business or affiliate offers opportunities so that you can make some good revenue by investing in Facebook Ads and Google Ads.
You can go through some courses on Facebook Ads & Google Ads Masterclass so that you can generate good money via this method.
Frequently Asked Questions Related To Builderall Affiliate Program Review?
Q. What Is Builderall Affiliate?
Builderall Affiliate is a free affiliate program under which any affiliation can promote their Affiliate Referrals. In turn, they will get commissions based on the plan new users buy the Builderall plan using their referral link.
Q. How To Make Money With The Builderall Affiliate Program?
You can generate a great figure of money by encouraging other people to buy & give a try Builderall through your affiliate link.
Moreover, you can promote your referral link via many means( Some of them are mentioned above in this article).
Q. What is the disadvantage of the Builderall free affiliate program?
The Builderall Free Affiliate program's minus point is that it is very important to collect 147 points each month to withdraw your commission from your referral link.
If you pay for Builderall plans, you will get your referrals to link without any such boundary.
Grab Now Your Builderall Premium Plan To Get A Boundless Promotional Link.
Q. How Much Is BuilderAll?
The Builderall basic plan starts from $69.90, in which you will get enough tool access to promote your online business on the next level.
Builderall Affiliate Program Review Conclusion:
BuilderAll is a collection of versatile tools that is a one-stop solution for professional bloggers, digital marketers, or any online business owner. It also offers one of the Best Affiliate Programs to drive a significant amount of money by referring your affiliate link to new users.
I hope all your doubt about this article has been evident after reading this full information article on Builderall Affiliate.
However, if you still have any queries. Don't forget to ping in the comment section of this blog.
It will be my pleasure if I can help you in any possible way.